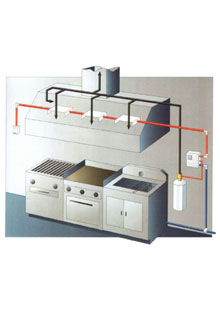 Product ID: 78
AGENT CYLINDERS: (2.75, 3.75, 4.75 & 6 GALLONS)
The agent cylinders are mild steel DOT 4BW240 specification cylinders, tested to 480 PSI (3309kPa).The agent cylinder/discharge valve assembly is factory charged with Avenger liquid fire suppressant, a potassium acetate-based solution that suppresses cooking grease fires both through saponificationand cooling. The cylinders are pressurized to 240 PSI (1655 kPa).
STAINLESS STEEL ENCLOSURE:
For our modern, fashionable world, Avenger decided to add some beauty to our Restaurant Fire Suppression System by providing stainless steel cylinders& releasing module enclosures.
The pressure gauges for the nitrogen and agent cylinders are visible without removing the front cover of the enclosure.
AVENGER OFFERS TWO OPTIONS FOR DETECTION:
A.) FUSIBLE LINK DETECTION:
The link-to-link system consists of four major components; conduit connector, cable segment beginning and end, conduit box, and link-to-link cable segments.
B.) LINEAR PNEUMATIC DETECTION:
The linear pneumatic detection system utilizes pneumatic detection tubing. When exposed to a fire condition the tubing ruptures, relieving all of the pressure in the tubing and accumulator thus firing the system using a nitrogen cylinder.
Avenger K & Avenger FLEX Systems are pre-engineered, wet chemical, stored-pressure type systems with a fixed nozzle agent distribution network. The uncomplicated nature of the Avenger system virtually eliminates design & installation errors. Avenger is listed by Underwriter's Laboratories, Inc. and is tested to UL standard 300.