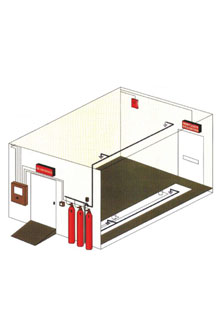 Product ID: 80
The Kalpex system helps you to reduce the footprint, installation and service cost by offering you a choice from 30L to 180L cylinders in 25 bar or 50 bar configurations.
Less cylinders are needed for your installation due to the high filling ratio that can be up to 1,2kg/L
The 50 bar pressure option allows the cylinders to be placed further away from the protection zone.
Extremely fast discharge of agent within 10 seconds. The fire is out before it has a chance to spread. Damages and downtime are at an absolute minimum.
The kalpex system is designed and manufactured by Kalpataru Industaries. A world leader in reliable control systems for pressurized gas applications.
KEY BENEFITS :
Choice from 30L to 180L cylinders
25 or 50 bar working pressure
Filling ratio up to 1,2 kg/I
Space- efficient as less space needed for cylinder storage
Reduced cost for piping and maintenance
Fast discharge and effective suppression
No residue- nothing to dean
Safe for humans within the NOAEL limitation
Non-conductive electrically
Proven high quality valve technology